SHUNSUKE (SAM) SUMITANI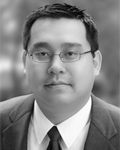 SHUNSUKE (SAM) SUMITANI, born in Tokushima City, Japan, 1979; admitted to Bar, California (2005); registered to practice before the United States Patent and Trademark Office (2005).
Education:
Purdue University, West Lafayette, Indiana (B.S. Electrical Engineering Technology, 2002); Franklin Pierce Law Center, Concord, NH (J.D., 2005).
Languages:
Japanese (conversational).
Shunsuke (Sam) Sumitani may be reached at the following email ssumitani@stetinalaw.com