ERIC L. TANEZAKI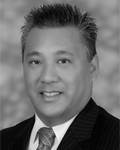 ERIC L. TANEZAKI, born in Long Beach, California, 1967; admitted to Bar, California (1996); U.S. District courts for the Central and Southern Districts of California (1997); registered to practice before United States Patent and Trademark Office (1996).
Education / Background:
Mr. Tanezaki earned his Bachelorís of Science degree in Mechanical Engineering (B.S.M.E., 1989) from the University of Southern California. Thereafter he worked in the defense aerospace industry as an engineer (1989-1993), at the McDonnell Douglas Electronic Systems Co. (prior to being acquired by the Boeing Company).

He attended the University of the Pacific, McGeorge School of Law where he received his Juris Doctorate (J.D., 1996). Mr. Tanezaki was admitted to the California Bar in 1996, and is admitted to all the U.S. District Courts of California. In addition, he is registered to practice before U.S. Patent and Trademark Office (USPTO).

Out of law school, he worked as a litigation associate with the law firm of Sedgwick Detert Moran and Arnold. Mr. Tanezaki is a principal of Stetina Brunda Garred and Brucker, and has been with the firm since 1997.
Areas of Practice:
Mr. Tanezaki specializes in intellectual property (IP) prosecution, licensing and litigation. He has drafted and prosecuted domestic and foreign patent applications in numerous fields, including computers and software, business models, medical devices, aerospace, avionics, optics, gaming, chemical compositions, and mechanical, electro-mechanical and electrical devices. He has also prosecuted numerous trademark applications throughout the world on behalf of his clients. Mr. Tanezaki has significant transactional expertise including licensing of all forms of intellectual property and M&A support. Mr. Tanezakiís practice includes advising and representing clients in many industries ranging from the university setting to high technology to fashion.

Affiliations:
Mr. Tanezaki has monthly legal office hours serving as the Intellectual Property Law Mentor for USC Stevens Institute for Innovation since helping to develop the program in 2008. http://stevens.usc.edu/
Mr. Tanezaki also holds monthly office hours as an Expert-in-Residence (EiR) advising start-up ventures at the UCI Wayfinder Incubator since developing the intellectual property legal office hours program in 2017. http://innovation.uci.edu/programs/wayfinder-incubator/

Eric L. Tanezaki may be reached at etanezaki@stetinalaw.com and 949.855.1246 x218